Background Reference: http://en.wikipedia.org/wiki/Wake_Island
new Transient Personnel Information:


Wake Island (also known as Wake Atoll) is a coral atoll having a coastline of 12 miles (19 km) in the North Pacific Ocean, located about two-thirds of the way between Honolulu, 2,300 statute miles (3,700 km) to the east, and Guam, 1,510 statute miles (2,430 km) to the west. It is an unorganized, unincorporated territory of the United States, administered by the Office of Insular Affairs, U.S. Department of the Interior. Access to the island is restricted, and all activities on the island are managed by the United States Air Force. There is also a missile facility operated by the United States Army. The largest island, Wake Island, is the center of activity on the atoll and is the location of Wake Island Airfield, which has a 9,800-foot (3,000 m) runway.
During World War II, the Battle of Wake Island began simultaneously with the Attack on Pearl Harbor and ended on 23 December 1941, with the surrender of the American forces to the Empire of Japan. It was fought on and around the atoll formed by Wake Island and its islets of Peale and Wilkes Islands by the air, land and naval forces of the Empire of Japan against those of the U.S., with Marines playing a prominent role on both sides.
| | |
| --- | --- |
| Wake Island Forgotten 98 Rock | Wake Island Civilian Memorial |
On 4 September 1945, the remaining Japanese garrison on Wake Island surrendered to a detachment of U.S. Marines. The handover of Wake was officially conducted in a brief ceremony aboard Levy.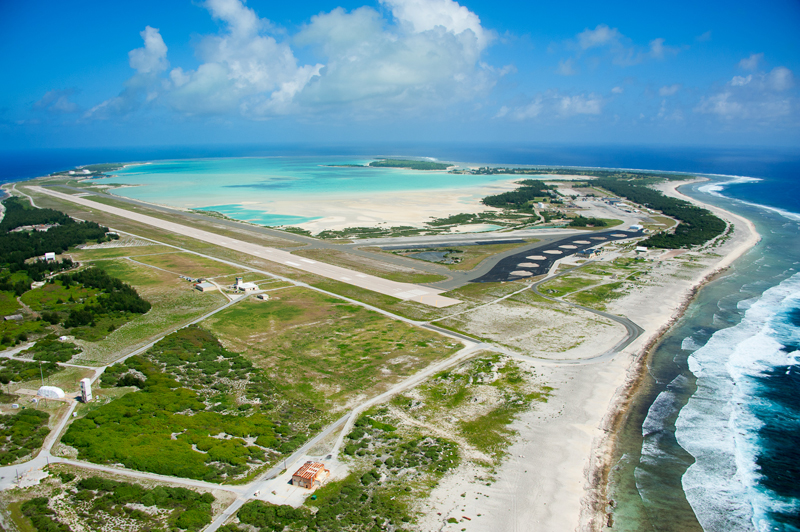 Coordinates: 19°18′N 166°38′E